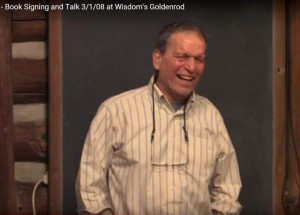 Vic at his book launch party, March 2008
"I watched Vic talking on YouTube earlier today," Deborah Gregory, poet and Jungian writer at The Liberated Sheep, wrote in a blog comment a few days after the Paris attacks. "It is the first time I have met him since reading your wonderful book, Leaning into Love. I love how he spoke of you right at the end…. I felt like a witness to Love."
"It is the first time I have met him since reading your wonderful book, Leaning into Love. I love how he spoke of you right at the end…. I felt like a witness to Love."
Really? I drew a blank. A YouTube video of Vic I didn't know about?
"Can you send me the link?" I wrote back." I was sure she'd made a mistake.
Deborah responded immediately. "Here is the link to the video…. I did a quick search 'vic mansfield dalai lama'… and near the top of the list this video was there, like a gift.
I followed the link, still sure there was an error. I was wrong.
I had forgotten this video even though our friend Mark Scorelle posted it on YouTube and sent it to me in February 2015. I was surrounded by book events and deadlines at the time and must have decided to delay the grief that would come from watching it.
It could wait a few days, but instead it sank into the unconscious.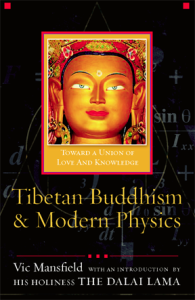 The video was recorded on March 1, 2008, when members of our community Wisdom's Goldenrod Center for Philosophic Studies gathered to honor the publication of Vic's last book Tibetan Buddhism and Modern Physics: Toward a Union of Love and Knowledge. Honoring the Dalai Lama's request, Vic finished the book while undergoing cancer therapy.
That night over seven years ago, I was proud and worried. I ached with grief. Vic was a few days away from 67. He was alive. He joked about that being a temporary condition.
In the YouTube piece below, Vic begins speaking at 29 minutes after chanting and meditation led by the head monk at Namgyal Monastery, the Dalai Lama's monastery in Ithaca, NY, and singing led by Jayne Demakos.
Watching the video last week, I flinched as Vic stood, awkward and slow, grasping a blackboard for support. He no longer sprung from the floor like an agile cat. His face was prednisone puffy and pink. His belly was swollen with inflammation despite the palliative medicines. We knew it wouldn't be long.
Vic thanked friends for the food they'd brought before grinning, dropping into his sunshine self, and saying, "They'll say about Wisdom's Goldenrod: 'they had very little spiritual attainment, but they ate well.'" Instead of weeping over Vic's situation,
we howled with laughter. Spiritual attainment is what we were after in the 1960s and 70s when we met our teacher Anthony Damiani. Creating feasts
had proved to be easier.
Vic shared a dream in which his friends gave him a healing cocoon made of silver threads. He choked back tears. So did I. Then he read two stories from his book. The first was about meeting the Dalai Lama in 1979, an experience shared by many in the room.
Next Vic read about a traumatic encounter with a pickpocket in the Barcelona airport that opened him to compassion for a stranger. It was pure Vic to tell a story where he was both fool and hero.
He ended with the South African idea of Ubuntu: "I am because we are" or "I am because of you." "There is no such thing as isolated or independent existence, whether we speak
of particles or people." Vic wrote in his book. "…we are expressions of our mutual connectedness to each other…" (page 91)
When Deborah sent the link right after the Paris attacks, a sense of despair and fear permeated the world. I needed the message and the healing tears. I needed to remember Umbunto and interconnectedness as our world slid into fear and aggression.
*****
Thank you for reading this. You are part of my community. What helped you after the catastrophe in Paris? Have you ever put aside something that feels too difficult and found it later when you truly needed.
If you'd like to read about Vic meeting with the Dalai Lama six weeks after the video, see The Dalai Lama Blesses a Dying Man at Lion's Roar. For more articles about meetings with the Dalai Lama, follow this link. To understand the idea of Ubuntu, listen to Desmond Tutu explain it.
Previously Published December 1, 2015 on Elaine Mansfield: Grief Is a Sacred Journey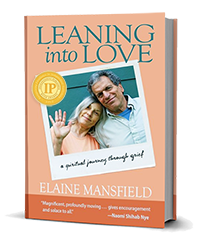 Leaning Into Love captures the heart from the extraordinary closeness of Elaine's marriage to how she and Vic transform their
struggle th cancer and despair into a conscious relationship with mortality. After Vic's death, Elaine leans into her ongoing love as grief leads her through overwhelming emotional and spiritual depths on a journey beyond their time together into her
new life.  Available in PRINT or E-Book.